Speaking Timeline
Register for upcoming talks
Upcoming
Remove css class from container
No future talks confirmed, yet.
Due to COVID-19 I stopped all plans for in-person Meetups/Conferences. Meanwhile, follow me on Twitter to get updated about live streams, library releases and fun.
Stay healthy at home!
Heavy lift work in Flutter – get started with Isolates
October 12, 2018
Moving work off the main thread prevents frame drops and makes users happy. Starting with Android P, apps will crash if they are not responding forcing developers to address this problem even more. Working with threads and async computations is every mobile developers daily challenge.
Flutter uses Dart, which is single threaded and has no APIs to start a new threads like in Java or Swift. How does this fit in a world of phones with at least 4 CPUs?
This talk will explain the Flutter threading model, how Futures keep the app responsive on a single thread and how you can use all CPU cores for compute heavy task via Isolates.
Flutter Introduction & Codelab
June 13, 2018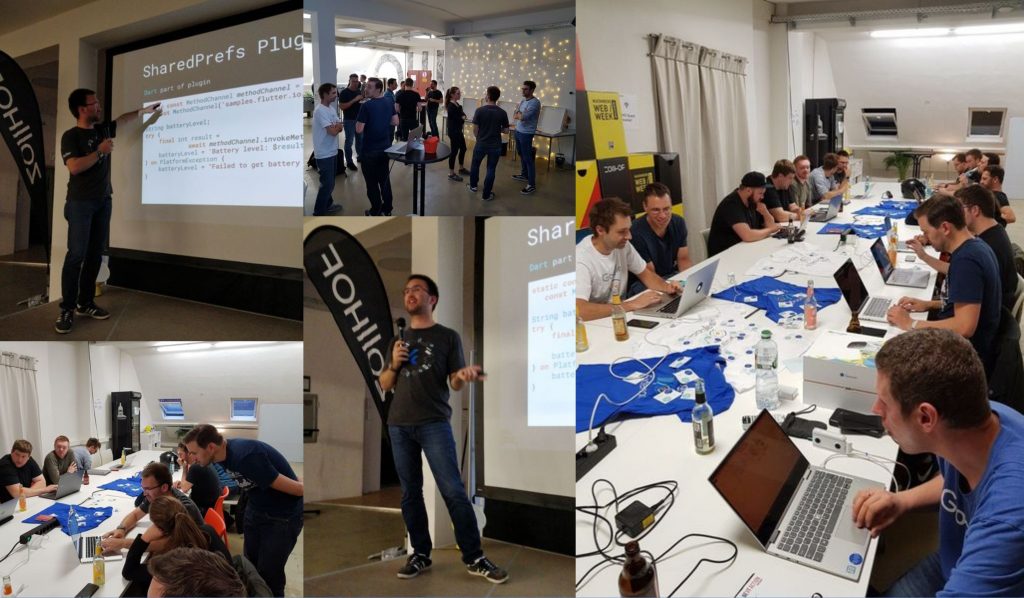 Flutter Google Developer Expert (GDE) Pascal Welsch will pay us a visit and introduce us in his talk to Flutter.
What's new about Flutter? Why is it not just another cross-platform development tool? When does it make sense to use it? There are definitely a lot of questions which Pascal will be able to answer.
Afterwards, we'll do a Codelab on Flutter.
10 years Android – what's next? Fuchsia and Flutter
March 1, 2018
The Android UI evolved a lot in the last decade. With Holo, Android became kind of nice looking and with Material Design, Android became beautiful. What hasn't changed is the UI Framework where layouts are inflated, layouted and measured on the main thread. Decisions made in 2005 which can't be changed now. This makes it harder than it should to run you app constantly on 60fps.
Flutter, a mobile app SDK from Google is designed to render your app constantly at 60fps. It already comes with a rich catalog of pixel perfect Material Design which look and feel like widgets from the Android design support library. Flutter apps are written in Dart and cross compile to Android and iOS to native code (not JavaScript!!!). Java glue code is only required when you're talking to system services like GPS or notifications.
Flutter could be Googles transition plan for Fuchsia, Googles next operating system for mobile devices. Instead of supporting Android Apps on Fuchsia, apps for Fuchsia can be compiled to iOS and Android apps. Fuchsia supports Dart as first class language and the system UI is written with flutter.
It's time to look what's next!